Welcome!
The Sletten Group takes a multidisciplinary approach towards the creation of enhanced nanotherapeutics, shortwave infrared diagnostics, and new chemical tools to study living systems. Research within the group involves a mix of organic synthesis, fluorous chemistry, chemical biology, self-assembly, polymer synthesis, photophysics, nanomedicine, and pharmacology.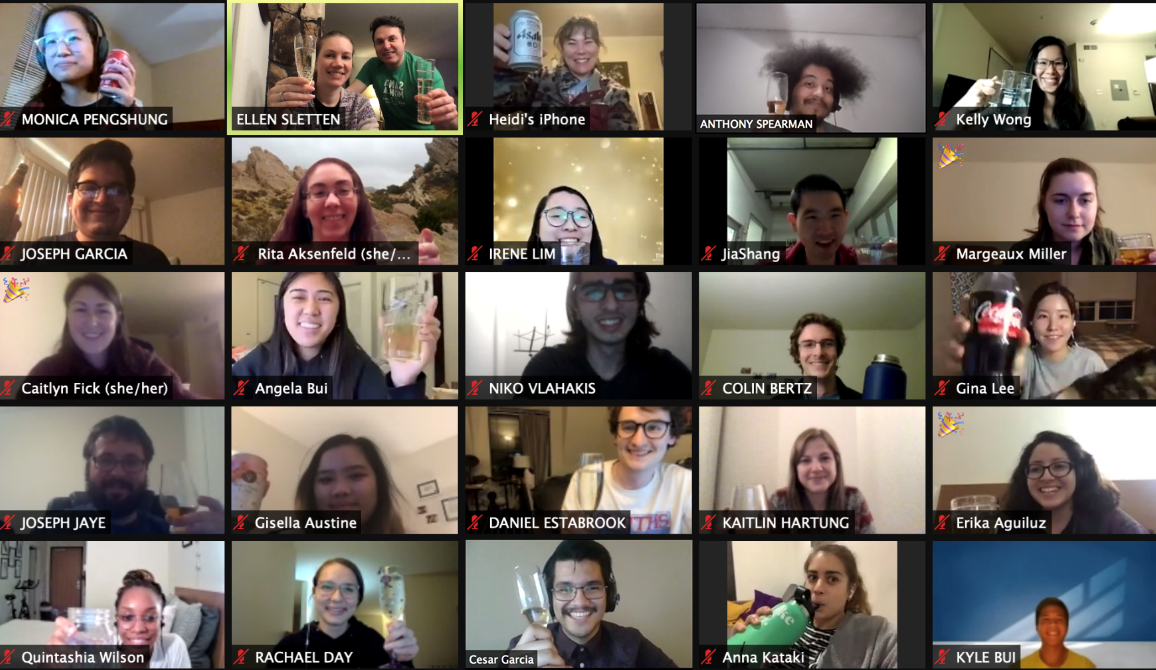 Recent News
4/16/21 – Kelly passes her orals to become Sletten Group PhD candidate #12!
4/13/21 – Congratulations to Rachael for delivering a fantastic exit seminar!
4/9/21 – Kyle receives the Leonard Greiner Award and a Biochemitry Donors Summer Research Fellowship! Way to go, Kyle!
4/6/21 – New work on establishing design principles of organic SWIR chromophores (collaboration with the Caram Lab) is online in ChemRxiv.
3/31/21 – Rachael's review of perfluorocarbon nanoemulsions for photodynamic therapy is now online in Current Opinion in Colloid & Interface Science!
3/27/21 – New imaging work in collaboration with the Campàs Group (UCSB) is out now in bioRxiv!
3/23/21 – Congratulations to Kelly for being awarded an NSF Graduate Research Fellowship and to Joseph for receiving an honorable mention!
1/4/21 – Today is truly bittersweet as we both celebrate and say goodbye to Dr. Maly Cosco, Sletten Group PhD #1! We can't wait to hear about the amazing things you'll accomplish at Stanford and beyond.
1/1/21 – Ellen joins the inaugural Early Career Advisory Board of ChemPhotoChem.
1/1/21 – We're excited to welcome first years Quintashia, Caitlyn, Colin, Kaitlin, and Rita back to the lab, as well as Niko for a rotation!
12/18/20 – Memories were made at our virtual holiday party, complete with a socially-distanced scavenger hunt and legendary Sriracha kitchen chemistry volcano.
12/1/20 – The first paper from our host-guest subgroup (collab w/ Prof. Alex Spokoyny) is out in JACS. Congrats to Anna and team!
12/1/20 – The Chan Zuckerberg Initiative chooses Ellen and collaborators Dr. Oliver Bruns and Dr. Christopher Rowlands as one of 13 teams for a CZI Deep Tissue Imaging grant!
11/11/20 – The International Chemical Biology Society selects Ellen as a 2020 ICBS Young Chemical Biologist Awardee!
11/9/20 – Garett and Gilbert join us for their fall rotations. Welcome!
11/1/20 – The Sletten Group had a blast with our virtual "Color, Optics, and Fluorescence Lab" booth at Exploring Your Universe!
10/26/20 – Congrats to Cesar on giving his Organic Chemistry Student Seminar. Very nice job!
10/19/20 – Our latest advances in SWIR imaging (collab w/ Dr. Oliver Bruns' group at Helmholtz Pioneer Campus) is now published in Nature Chemistry! Congratulations to Maly and team!
10/15/20 – We celebrate "Five Years of Fluoro" in the Sletten Group as Ellen delivers seminar to the home crowd.
10/12/20 – Congratulations to Anthony on delivering an incredible Organic Chemistry Student Seminar!
10/5/20 – Happy fall quarter! We're excited to welcome Angela, Eric, Caitlyn, Tom, and Aaron for their first fall rotations.
8/24/20 – We have TWO new carborane preprints out in ChemRxiv in collaboration with the Spokoyny Group!
8/18/20 – The group's most recent work towards red-shifted fluorous soluble fluorophores (collab w/ the Campàs Group at UC Santa Barbara) is now online in JACS. Well done, Irene and team!
8/10/20 – We welcome first year PhD students Colin, Kaitlin, Noelle, Quintashia, and Rita to the group for the start of their summer rotations.
7/29/20 – Our latest collaborative work with the Lopez Lab (Northeastern Univ.) was accepted to Organic Letters. Congrats to Monica and team!
7/24/20 – Our systematic study of perfluorocarbon nanoemulsions led by Rachael is now online in ACS Applied Materials & Interfaces!
7/4/20 – Margeaux's review paper, "Perfluorocarbons in Chemical Biology," was accepted to ChemBioChem!