Welcome!
The Sletten Group takes a multidisciplinary approach towards the creation of enhanced nanotherapeutics, shortwave infrared diagnostics, and new chemical tools to study living systems. Research within the group involves a mix of organic synthesis, fluorous chemistry, chemical biology, self-assembly, polymer synthesis, photophysics, nanomedicine, and pharmacology.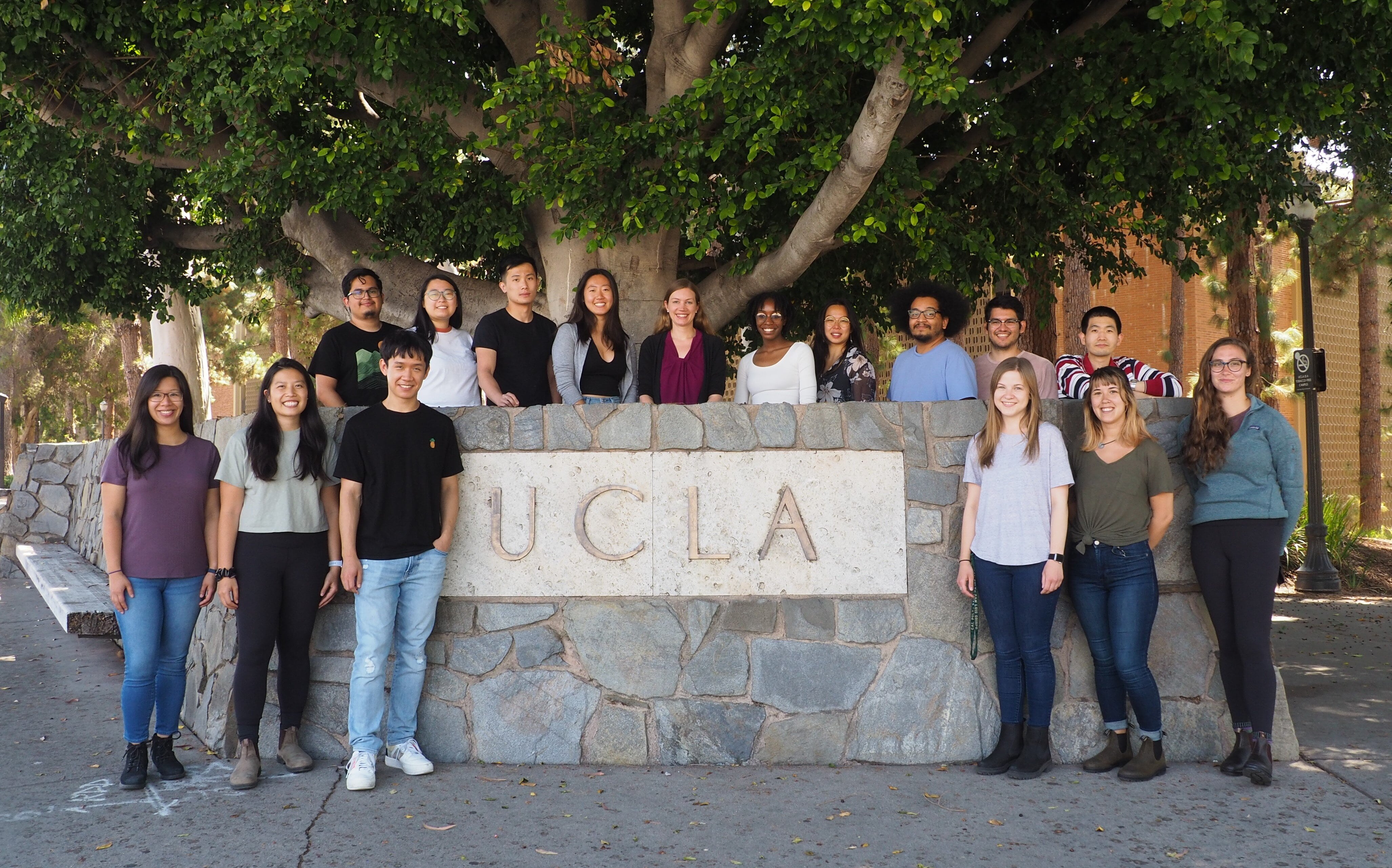 Recent News
9/9/22 – Our work on macromolecular crowding as an intracellular stimulus for responsive nanomaterials led by Dr. Dan Estabrook is now online in JACS!
8/17/22 – We were finally able to welcome Prof. Carolyn Bertozzi to our campus to receive the Seaborg Medal. It was a fantastic day of science stories from Profs. Alanna Schepartz, Ellen Sletten, Jenn Prescher, Frances Arnold, and Carolyn herself!
8/1/22 – Today we welcome first year rotation students Aris, Devon, Eli, and Jingmei to the lab!
7/31/22 – We wish Dr. Shang Jia safe travels and good luck with his new position. We can't wait to see the amazing things he'll do at the University of Arkansas!
6/22/22 – Our 2022 orals season comes to a close as Jessica becomes PhD candidate #16! Congratulations and fantastic job!
6/11/22 – Kyle and Daniel have graduated with their bachelors degrees! We're going to miss having them around in lab, but we can't wait to see the amazing things they'll do next. Congratulations!
5/19/22 – Cheers to Kait for absolutely nailing her oral exam and advancing to candidacy!
5/16/22 – Congratulations to Quintashia on passing her oral exam with flying colors and becoming Sletten Group PhD candidate #14!!!
5/13/22 – Today we say goodbye to Dr. Heidi van de Wouw as she embarks on her next journey as visiting faculty at Pomona College. Thank you for everything, Heidi!
5/13/22 – Congratulations to Anthony, Cesar, and Xavier on their departmental awards! They earned the Ralph and Charlene Bauer Award, Charles J. Pedersen Award, and Raymond and Dorothy Wilson Department Award, respectively.
5/3/22 – Soon-to-be Dr. Irene Lim delivers an excellent exit talk for Chemical Biology Seminar. Great job, Irene!
3/30/22 – Kelly's review of SWIR imaging technologies, dyes, and probes is now online in Current Opinion in Chemical Biology!
3/17/22 – Major congratulations to Eric for being named a TRDRP predoctoral fellowship awardee!
1/3/22 – We're excited to officially welcome Prairie, Helen, Emily, Ethan, Lillie, and Katie to our group as first year PhD students!