Welcome!
The Sletten Group takes a multidisciplinary approach towards the creation of enhanced nanotherapeutics, shortwave infrared diagnostics, and new chemical tools to study living systems. Research within the group involves a mix of organic synthesis, fluorous chemistry, chemical biology, self-assembly, polymer synthesis, photophysics, nanomedicine, and pharmacology.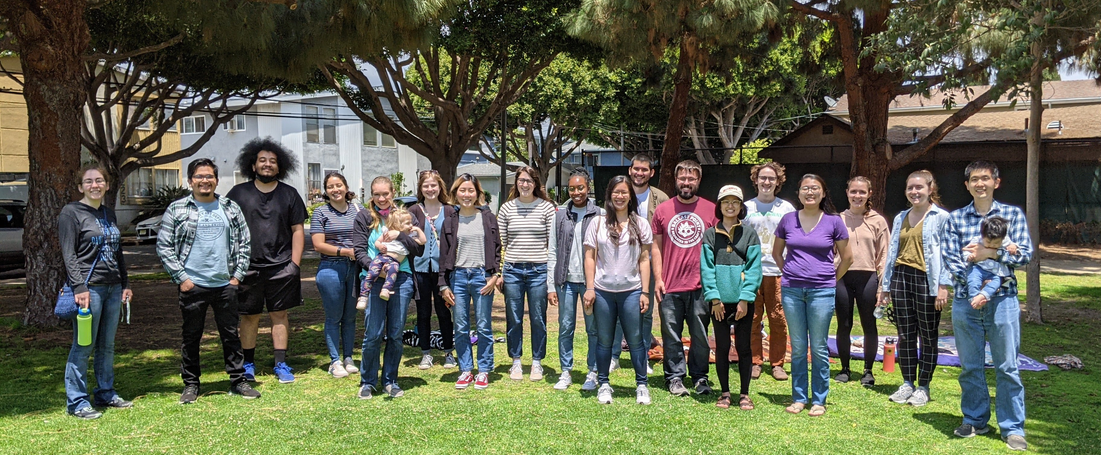 Recent News
11/19/21 – We celebrate soon-to-be Dr. Margeaux Miller with delicious snacks and Sidecar Donuts at the botanical garden!
10/20/21 – Recent graduate Dr. Anna Kataki-Anastasakou's final paper of the group is now online in ACS Chemical Biology!
10/4/21 – Congratulations to Quintashia on a fantastic Organic Chemistry Student Seminar!
9/27/21 – We welcome Belle, Casey, Jennyfer, and Lillie to our lab for their fall rotations!
9/13/21 – Shang's review of far-red and NIR photocages/photoswitches is now online in ACS Chemical Biology.
9/10/21 – Congrats to Dr. Anna Kataki-Anastasakou on officially becoming Sletten Group PhD #7!
8/2/21 – Emily, Ethan, Helen, Katie, Prairie, and Vicki join us for their summer rotations!
7/23/21 – Our fearless leader Ellen is promoted to rank of Associate Professor with tenure!!! Congratulations on this incredible milestone!
7/19/21 – We welcome MD PhD student Eric Lin for the start of his PhD training.
6/29/21 – Daniel joins us as an undergraduate researcher. Welcome, Daniel!
6/18/21 – Belated congratulations to Kaitlin on being named a Chemistry-Biology Interface Training Program trainee!
6/13/21 – We celebrate Drs. Lee, Pengshung, Day, Estabrook, and soon-to-be Dr. Kataki at Santa Monica Brew Works.
6/11/21 – Monica and Dan round out our 2021 exit talks with fantastic presentations!
6/9/21 – Joseph passes his orals and advances to PhD candidacy! Congratulations, Sletten Group PhD candidate #13!
6/4/21 – Congrats to Joe, Margeaux, and Gina for excellent exit seminars today!
5/25/21 – Kyle delivers a fantastic research talk for UCLA Undergraduate Research Week!
5/23/21 – Today we congratulate Joe and wish him farewell as he leaves for a post doc in Minnesota. We're so proud of you, Joe!
5/14/21 – Ellen wins the 2020-2021 Herbert Newby McCoy Award, which recognizes the greatest contribution of the year to the science of chemistry and biochemistry!
5/13/21 – Kelly receives a Michael E. Jung Excellence in teaching award!
5/13/21 – Congrats to Anthony for being named a Jim and Barbara Tsay Excellence in Second Year Research and Academics Award recipient!
5/13/21 – Irene receives a Ralph and Charlene Bauer Award for her excellence in research, teaching, and service! Congrats, Irene!
5/13/21 – Congrats to all our fifth year PhD students on their dissertation awards: Dr. Myung Ki Hong Award (Rachael), UCLA Chemists Association Award (Monica), Saul and Sylvia Winstein Award (Gina), Majeti-Alapati Awards (Margeaux and Dan), Donald J. Cram Award (Anna), and Theodore A. Geissman Award (Joe)!
5/4/21 – Congrats to Anna on an excellent exit seminar!
5/3/21 – Our latest four-color in vivo SWIR imaging work is now published in JACS.
4/30/21 – Redox-responsive gene delivery from perfluorocarbon nanoemulsions manuscript (led by Dan) is published in ACIE.
4/28/21 – New work on photophysical properties of indocyanine green in the SWIR is now online in ChemPhotoChem. Congrats to Dr. Maly Cosco and team!
4/16/21 – Kelly passes her orals to become Sletten Group PhD candidate #12!
4/13/21 – Congratulations to Rachael for delivering a fantastic exit seminar!
4/9/21 – Kyle receives the Leonard Greiner Award and a Biochemitry Donors Summer Research Fellowship! Way to go, Kyle!
4/6/21 – New work on establishing design principles of organic SWIR chromophores (collaboration with the Caram Lab) is online in ChemRxiv.
3/31/21 – Rachael's review of perfluorocarbon nanoemulsions for photodynamic therapy is now online in Current Opinion in Colloid & Interface Science!
3/27/21 – New imaging work in collaboration with the Campàs Group (UCSB) is out now in bioRxiv!
3/23/21 – Congratulations to Kelly for being awarded an NSF Graduate Research Fellowship and to Joseph for receiving an honorable mention!
1/4/21 – Today is truly bittersweet as we both celebrate and say goodbye to Dr. Maly Cosco, Sletten Group PhD #1! We can't wait to hear about the amazing things you'll accomplish at Stanford and beyond.
1/1/21 – Ellen joins the inaugural Early Career Advisory Board of ChemPhotoChem.
1/1/21 – We're excited to welcome first years Quintashia, Caitlyn, Colin, Kaitlin, and Rita back to the lab, as well as Niko for a rotation!