Welcome!
The Sletten Group takes a multidisciplinary approach towards the creation of enhanced nanotherapeutics, shortwave infrared diagnostics, and new chemical tools to study living systems. Research within the group involves a mix of organic synthesis, fluorous chemistry, chemical biology, self-assembly, polymer synthesis, photophysics, nanomedicine, and pharmacology.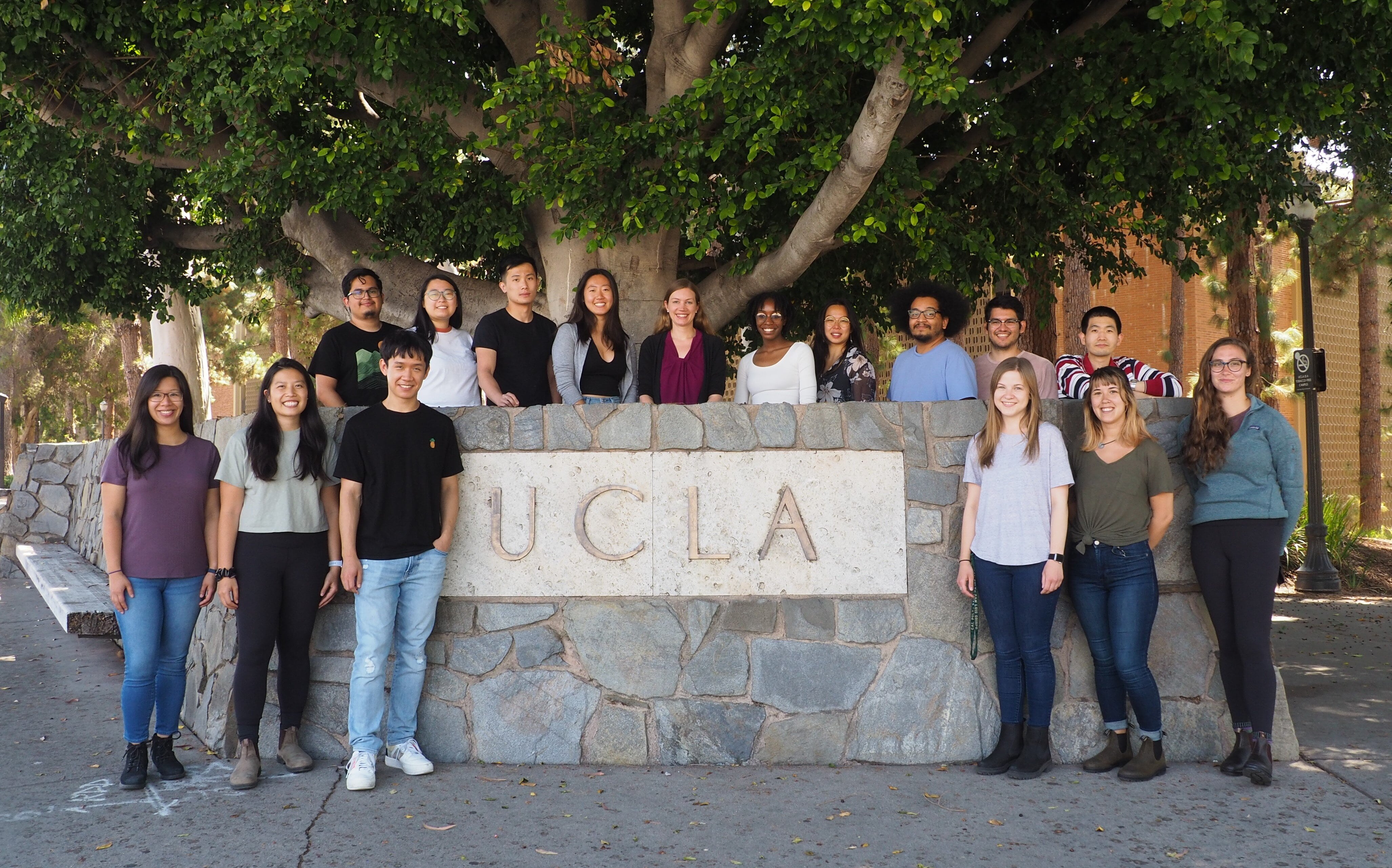 Recent News
5/25/23 – Helen becomes a PhD candidate! Congrats and amazing job.
5/17/23 – The 2023 Sletten lab quals season continues with Ethan becoming PhD candidate #21!
4/19/23 – Excellent job to Katie for passing her candidacy exam!
4/17/23 – Maggie joins the group as our first masters student in UCLA's MACS program- welcome!
4/7/23 – Congrats to Prairie for advancing to candidacy today!
4/4/23 – Today we celebrate Emily becoming Sletten Lab PhD candidate #18!
3/30/23 – Huge congratulations to Ellen for being selected for UCLA's 2023 Distinguished Teaching Award for Senate Faculty!
3/29/23 – Congratulations to Helen on being awarded the NSF Graduate Research Fellowship!
3/27/23 – Celebrated a belated lab birthday with cake decorating at Santa Monica Brew Works.
2/10/23 – Ellen is selected for the 2023 ACS Women Chemists Committee (WCC) Rising Star Award!
12/27/22 – Dr. Anna Kataki's paper on a fluorescent unnatural mannosamine derivative is now online in Israel Journal of Chemistry.
12/13/22 – Congratulations to Eric on advancing to (MD/)PhD candidacy today!
12/5/22 – Irene's work on fluorous-soluble chromenylium dyes is now online in Angewandte Chemie!
11/6/22 – After a hiatus due to the pandemic, the PHOTONBooth makes a triumphant return at this year's Exploring Your Universe.
11/3/22 – Our work led by Dr. Shang Jia on water soluble SWIR dyes for bioimaging is now online in ChemRxiv!
10/12/22 – Irene's work on fluorous-soluble chromenylim dyes is now accessible in ChemRxiv!
10/1/22 – Our annual Sletten Lab Oktoberfest tradition finally returns after a 4-year hiatus!
9/30/22 – Today we celebrate and say goodbye to our fluorous soluble dye expert Dr. Irene Lim as she continues onto Stanford for her postdoc. Congratulations on finishing your PhD and best of luck!
9/26/22 – Reece and Vito join us for their fall rotations. Welcome!
9/9/22 – Our work on macromolecular crowding as an intracellular stimulus for responsive nanomaterials led by Dr. Dan Estabrook is now online in JACS!
8/17/22 – We were finally able to welcome Prof. Carolyn Bertozzi to our campus to receive the Seaborg Medal. It was a fantastic day of science stories from Profs. Alanna Schepartz, Ellen Sletten, Jenn Prescher, Frances Arnold, and Carolyn herself!